In this LockDown period, people are struggling with their jobs and salary cuts, most of them are talented but have no hope rather than waiting for the economy to grow and get back to normal life. Well if you have the talent and the dedication to earn money then there are always alternate ways to earn money as well. So, for this problem Affiliate Marketing is the solution for those who are willing to save time. Affiliate Marketing is one of the most not so easiest way but yet comfortable way to earn money online just sitting at home. It is commission-based marketing were in simple you need to sell some other company products or services through your platform either its website, Blogs, Social Media or any other. So in this article, we will discuss and help you out understanding how to start affiliate marketing and earn money online sitting at your home. To know more kindly continue reading below:
To start this as a beginner the very first step you need to choose is started searching for what type of affiliate you wish to go for, it might be product sales related then you can go for Amazon, Flipkart or any other eCommerce platforms. Then you can go for services related where you can provide your services say as Content Writing, Logo Making, Graphic designing and many more. so choosing the best platform for Affiliate is the key step and the first one. So, to help you understand in details we will discuss with a product-related affiliate in this article.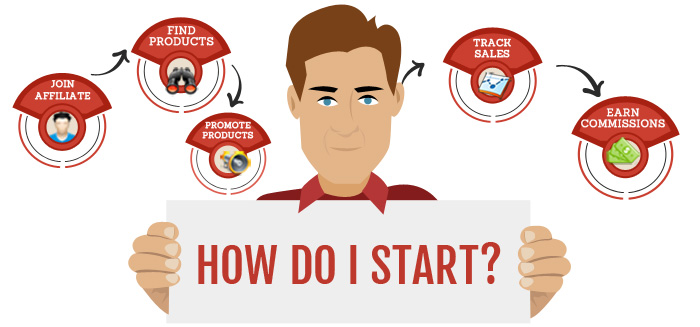 Below we will mention some important steps to help you understand how to start affiliate marketing from Amazon:
For product-related affiliate, you can sign up with Amazon Affiliates Programs and choose the category and products you want to promote.

Then you need to have a website or your blog so that you can promote the product in your platform.

write any relevant article with decent English and positive review of the product you've decided to promote,

Amazon will provide you with an HTML code for the product which you need to paste it in the content part somewhere so that it will look decent in the end.

Then finally review your blog and then try clicking the affiliate link to check whether it is redirecting you or not.
Hence you have published your blog now you need to get as must traffic you can on your blog, you can promote your blog in social media platforms, requesting your friends or family to view and share your blog and so on.
Finally once any readers or viewers who read your blog manages to click the Affiliate product link you have provided and buys the product at last then you will get the required commitment of the same product directly on your account.
In this way, you can earn money online simply sitting at your home. Well its a long and time-consuming process but in the end, you will surely be able to get success in that. We hope this article has helped you a lot of understanding on how to start affiliate marketing and wish to see you soon again.
Happy Reading.