No matter your experience or how many academic notches you have on your professional bedpost, you need to continually stay up to date, and the best way to do that is to follow the best digital marketing blogs.
We're kicking off our 'blogs to follow' series this month with top social media blogs. A shortlist of social media blogs to follow that will help you swot up, stay in the loop and be at the top of your game. Tune back in for digital marketing tips and more blogs to follow in the coming weeks…
1. Buck the trend and stay ahead with Buffer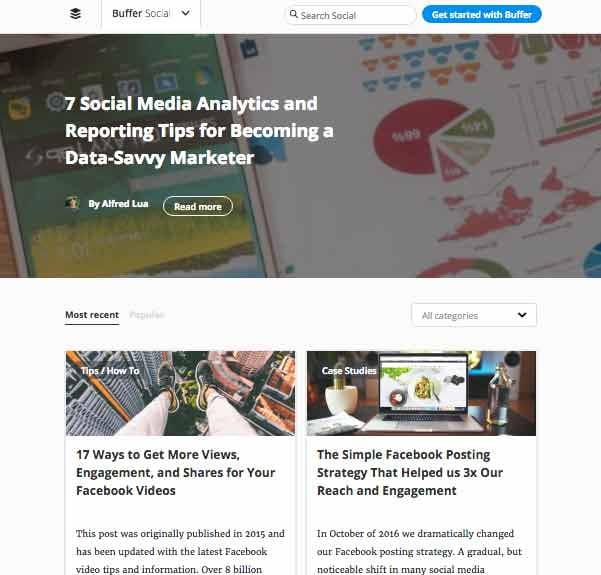 Like a big brother you won't mind looking up to, Buffer is a 'poster child' for startup content marketing done right, with founders Leo Wildrich and Joel Gascoigne at the helm. For them to go from nothing to global domination, you know they have the experience, and now a huge team plus guest writers that make it their job to stay current and stay ahead of any upcoming social media trends.
A popular social media blog with thousands of shares and over one million users. Buffer's social media marketing blog covers the latest social media tools, analytics, and strategies for Twitter, Facebook, and beyond. A great resource for data savvy marketers or digital marketers who want to know what's hot and what's not in social – FYI it's not giving people a poke.
From Instagram searching and Facebook strategy through to social reporting tips; they also go way beyond the basics telling stories that strike a nerve with social media influencers, including psychology, creativity, and general life hacks. The perfect place to buff up your social media skills till they're positively ablaze. So you can 'drop it like it's hot' at the next meeting or interview.
2. Get an eyeful with visual insights from Socially Sorted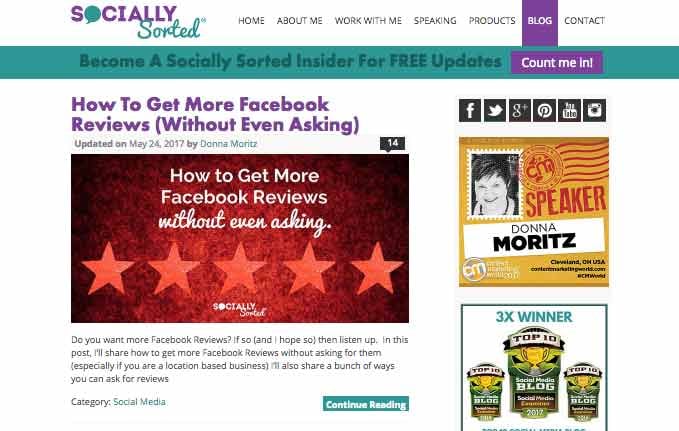 For a more personal and hyper focused visual touch, you could check out this blog by Digital Content Strategist, Donna Moritz. Her award winning blog Socially Sorted has consistently been listed among the top 50 social media influencers worldwide.
A regular speaker and trainer in the marketing and tourism industries internationally, Donna has the expertise to show you how to leverage the power of visual storytelling and content strategy. CEO at Razor Social, Ian Cleary said:
"Donna knows more about the visual web than anyone I know globally. She is super smart, delivers an exceptional service and is a pleasure to deal with. On the last project I did with Donna we got an infographic designed that was shared over 5,000 times and over 100 websites put the infographic on their site. We got at least 10 times the return on investment from this project."
So, sort it out. If you're interested in all things visual and want to learn how to prove the value of visual content then get your beady eyes over to Socially Sorted. Sorted mate.
3. Stay sharp on strategy and tactics with RazorSocial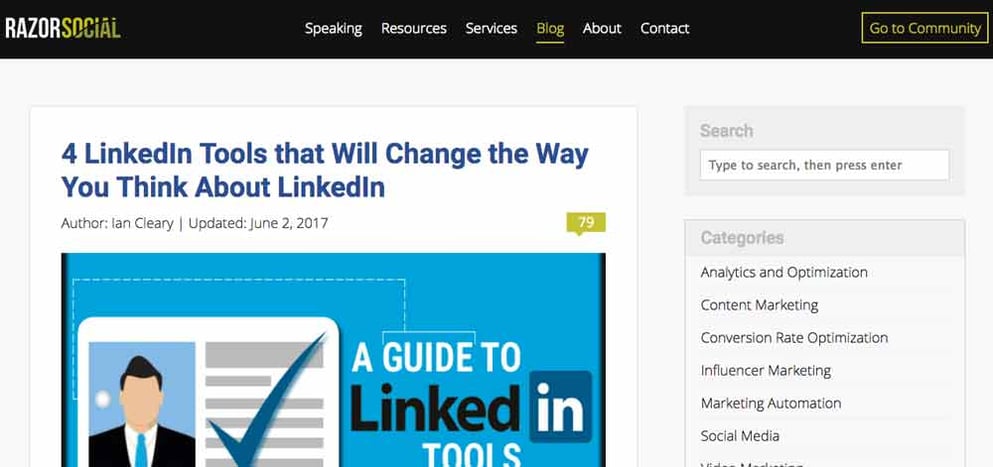 If you want to get more savvy on data and planning then sharpen up your skills with RazorSocial. Where you can get top tips from the founder and experienced marketer Ian Cleary, who believes in a focus on delivering strategic content that attracts the ideal audience and building relationships with the right people to stay ahead in a competitive world.
Speaker, marketing consultant and author of Duct Tape Marketing, The Referral Engine and The Commitment, John Jantsh, counts this blog as one of his top go to's for updates, he said:
"RazorSocial is on my very short list of go to sites to keep up the latest and greatest social media tools and practices"
A great blog to power up your marketing skills, so you can become a digital superhero with razor sharp abilities – hazzar!
4. Tuck in for some goodness with Sprout Social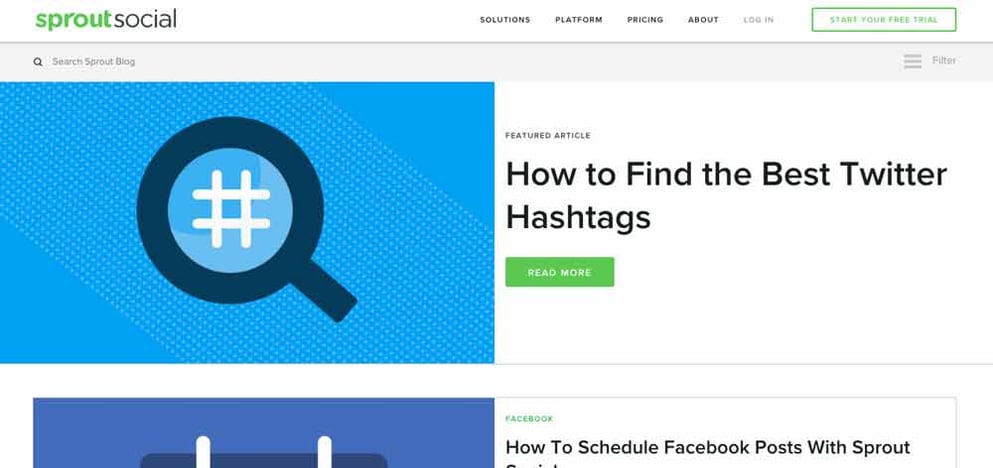 Sprouts. Not many people like them, but we know they're good for us and if you sprinkle in some bacon and cook them right they can be pretty darn delicious. Sprout Social's blog does just that with their social media blogs. Adding just the right ingredients and perspective to make boring subjects engaging.
In their own words, the Sprout Social team are a 'quirky and diverse combination of people with their own characteristics and outside interests'. So, when you read their posts you're learning from a great mix of people on the frontline, sharing their experience and the latest updates. So, tuck in and enjoy the goodness.
5. Recalibrate your strategy with Rebekah Radice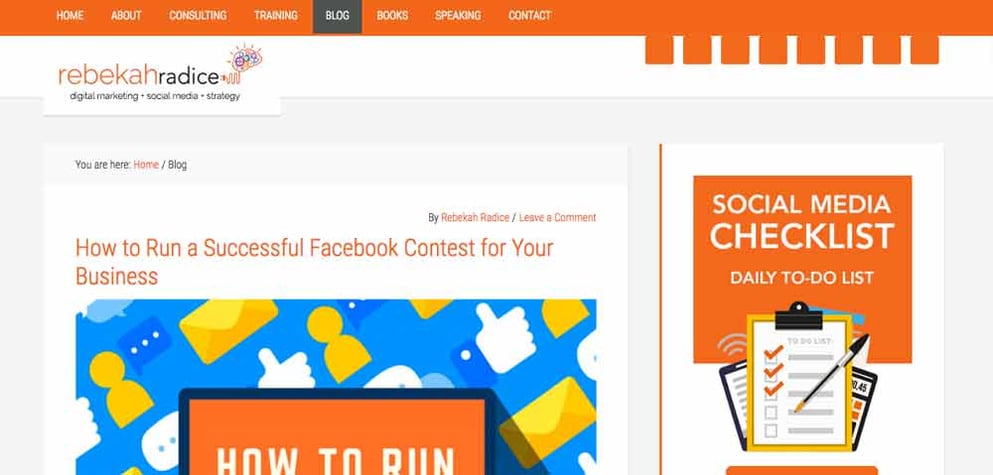 Have you tried turning it off and on again? Sometimes we need to recalibrate and change our perspective to get the best out of a marketing strategy. Something that LA marketer and entrepreneur Rebekah Radice masters with over 20 years experience and an 'unstoppable energy'. Blogging since 2004, this is one of the top social media blogs – voted a "2015 and 2016 Top 10 Social Media Blog" by Social Media Examiner.
Rebekah was also recently listed as a Top Marketing Influencer by Brand24, and as one of the Top Ten Social Media Marketers and Top 40 Content Marketers by Onalytica.
If you're working on your marketing strategy skills then this is the blog for you. From email and list building to content and social media, you will discover how to maximize, prioritise, and monetise your online efforts. Making more money and beating the competition may not be your top motivation for a career in social media marketing, but it will be important to your client or boss.
Read this one and you could be the Usain Bolt of the marketing industry – fast, efficient and full of chicken nuggets. Well, the nuggets part is more of a Usain preference, but you get our drift.